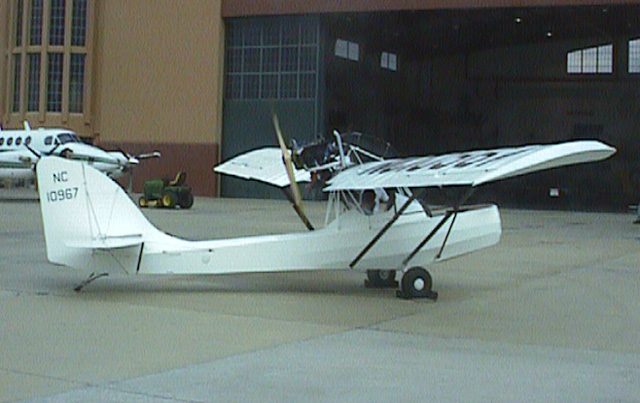 1931 Curtiss-Wright Junior
The first Curtiss Junior flew in 1931 and immediately gained nationwide attention due to its unique design. Initially called the Skeeter, the bathtub appearance of this two-place, very light aircraft made it the subject of many jokes. Originally powered by a 3-cylinder Szekely air-cooled engine, it had a cruising speed of less than 50 mph. In 1931, a new Junior sold for $1,490, making it as affordable as "an automobile in the medium price class."
With its distinctive profile and pusher propeller, many airshow pilots employed it for zany flying stunts. Due to its large wing, light weight, and superb visibility, it was also great for aerial photography.
This aircraft was used as a movie camera ship when it was owned and operated by the Tallmantz Movieland of the Air Museum. Modified with a more powerful 85 hp Continental engine and camera mount, its screen credits include The Boy Who Flew with Birds, The Chicken and the Hawk, and Thoroughly Modern Millie.
When Kermit acquired the Tallmantz Collection in 1985, this aircraft was disassembled and shipped to its new home in Florida. It was eventually restored to its configuration as a camera ship.
Specifications
Year Built — 1931
Wingspan — 39'6
Cruise Speed — 50 mph (original); 80 mph (current)
Gross Weight — 975 lbs
Original Engine — 3-cylinder Szekely (45 hp)
Current Engine — Continental (85 hp)
Kermit's Comments
The original Szekely engine had its three cylinders bolted to the engine in triangle fashion. Unfortunately, it had a nasty habit of occasionally blowing cylinders off until a fix was developed. A cable, with a turnbuckle, was wrapped around the tops of the three cylinders and tightened down. This kept any loose cylinders in place so that they would not come off and fly through the propeller during flight.