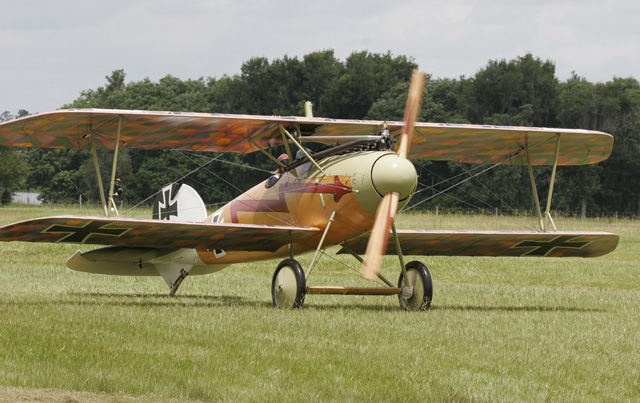 1917 Albatros D-Va
At one point during World War I, the Albatros D.Va was the most feared aircraft in battle, giving the legendary German aces their great success in the sky the time they enjoyed a superior technical advantage.
Ultimately, it was responsible for "Bloody April" in 1917. The aircraft was renowned not just for its fierceness but also for its beauty and innovation, with a surprisingly modern shape, uniquely streamlined and aerodynamic, and a fascinating before-its-time construction technique—featuring wood skinning on the bulkheads.
Its legend and beauty made it an ideal candidate for Fantasy of Flight's collection, but, like most aircraft of its era, no flying original examples exist. This perfect reproduction, crafted by Peter Jackson's remarkable shop in New Zealand, The Vintage Aviator, Ltd., is both a tribute to the original designers, who were well ahead of their time, and a testament to the modern technology that resurrected a legend.
Specifications
Year Built — 1917 (original); 2011 (reproduction)
Wingspan — 29'8″
Cruise Speed — 116 mph
Gross Weight — 2,066 lbs
Original Engine — Mercedes D.IIIaü (180 hp)
Armament — 2 synchronized 0.312 in (7.92 mm) machine guns
Kermit's Comments
This aircraft has a rather interesting starting procedure where the mechanic has to climb up on the tire to grab a handle on the engine to lift the cam for starting, which then has to be lowered after the prop is turning!  True to the original, there are no brakes and a tailskid. The radiator gauge and cooling shutter handle are outside the cockpit in the slipstream. One of the more interesting operating requirements for this aircraft is the pilot must twist a screw about every ten minutes on a grease canister mounted in the cockpit to keep coolant from leaking into the engine.
Peter Jackson's guys did a magnificent job with this airplane. It is not just a reproduction; it's a piece of art. While it looks modern, streamlined, and fast, my biggest surprise when flying it, is that it is not. The construction included reproducing the original instruments, radiator, seat belts, etc. The original in-line six-cylinder Mercedes engine is a joy to hear and fly behind, and with its low rpm, sounds like a John Deere tractor! I chose to have it painted in the colors of Offstv. Adolf Schreder's Jasta 17 aircraft. Schreder's story has an "eye for an eye" quality that I found interesting, and his colors are truly beautiful.