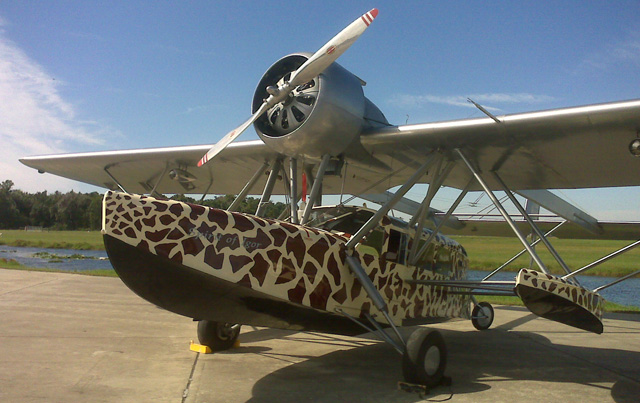 1930 Sikorsky S-39
This remarkable and eye-catching Sikorsky S-39 represents one of the 21 aircraft of this type built by Igor Sikorsky in 1930-1931; however, this is the only airworthy example of the type and is the oldest flying Sikorsky in the world today. It was painstakingly restored by Dick Jackson of Rochester, NH. The project began in the 1960s, with the hull of NC-50V, discovered in the Alaskan bush. After 40,000 hours and nearly four decades, the S-39 took to the skies again.
The "Spirit of Igor" was named for the "Spirit of Africa," an S-39 owned by African naturalists Martin and Osa Johnson, and for Igor Sikorsky himself, a true visionary and pioneer in aviation. He built the first successful four-engine aircraft in 1914, later his series of flying boats, and finally, developed the helicopter. The giraffe spotting on the fuselage is authentic to a specific sub-species, of which there are 9 different types. It was projected onto the hull in order for the painting to be completed.
Specifications
Year Built — 1930 original
Wingspan — 52′
Cruise Speed — 100 mph
Top Speed — 119 mph
Gross Weight — 4,000 lbs
Original Engine — Pratt & Whitney R-985 (300 hp)
Current Engine — Pratt & Whitney R-985 (400 hp)
Kermit's Comments
I had been eyeing this wonderful aircraft for years and have long admired the spirit and skill of Dick Jackson. Dick visited Fantasy of Flight some time back and offered to leave the Sikorsky here for a while on. On one of his visits here, Dick and I took it flying… Up in the most beautiful conference room in the world, we started negotiating. Dick really wanted the airplane to end up here and was willing to take payments over time. So how much did I pay? More than I was willing to spend but less than his bottom line. But we both agreed in the most important principal: the aircraft would be treasured at Fantasy of Flight.